Raintech Sound and Communications, Inc. is an established and growing electronic systems contractor specializing in: Health Care Communications Systems, Patient Safety Systems, Professional/Commercial, Sound Systems, Intercom Systems, Security/Access Control Systems, Video Surveillance Systems.

Founded in 1989, Our Company has grown to become one of the largest and most reliable electronic systems contractors in New England. Many of the largest healthcare systems in the region have relied on Raintech Sound & Communications, Inc. to provide system design, pricing and installation services. Providing administrators, facilities managers, architects, electrical engineers and electrical contractors, with a complete system package. Including product demonstrations, system design, in-house installation/ field support services and detailed end user training seminars.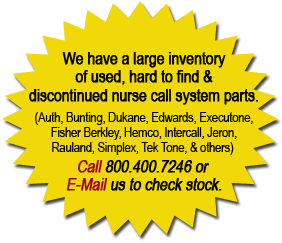 Health Care Facilities
Institutions
Offices
Factories
Churches
Warehouses
Parking Garages
Apartments
Hospitality Establishments
Public Transportation Facilities

Click here to fill out a Credit Application.